Connect to
Community



"Connect to Community" section provides resources in relation to the two domains of an age-friendly city, including "Communication & information" and "Respect & social inclusion". Accessible and timely information, intergenerational harmony and respectful culture are essential for an inclusive society which closely connects older people with the community.


Communication & Information

Respect & Social Inclusion
---
Intergenerational communications enrich the experience for all ages. Older people pass on traditional practices, knowledge and experiences, while younger people share newer practices and update-to-date information, creating a respectful and inclusive society.
Booklets | Elderly life story books developed by youngsters
(Chinese version only)
The youngsters developed life story books for the elderly after visiting and conducting interviews with them. The life story book not only serves as a record of the elderly's experience that can be shared with relatives and friends, but also brings insights to youngsters, which connects different generations. 
(produced by Helping Hand Cheung Muk Tau Holiday Centre for the Elderly under "Jockey Club Age-friendly City Project – "Story of My Life"")
Videos | "Human Library" stories of the elderly living in rural areas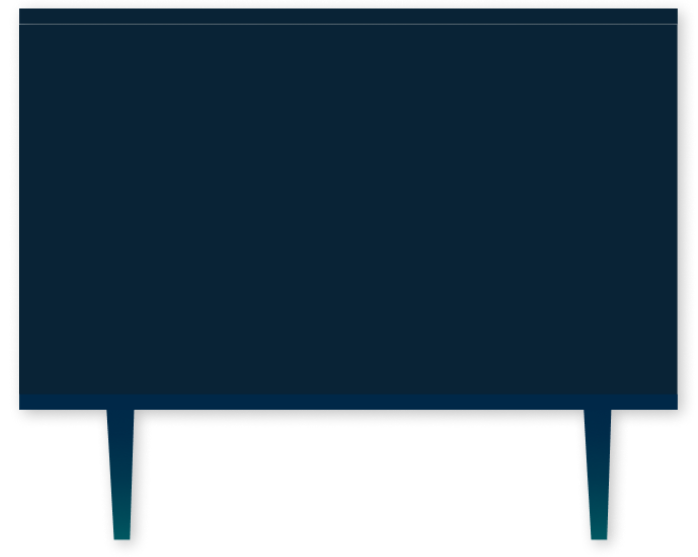 Village of indigenous inhabitants – The retirement life of Mr Yuk
From cross-border lorry driver to repairer of bicycles for villagers – The Chung's story of generosity
Pig farmer uncle Gun in Ngau Tam Mei
Wai-kin and Muk-kiu – the couple living in squatter
Articles | Stories of Age-friendly City Ambassadors
The Jockey Club Age-friendly City Project has trained elderly people to become "Age-friendly City (AFC) Ambassadors" to promote the AFC concept and encourage community participation.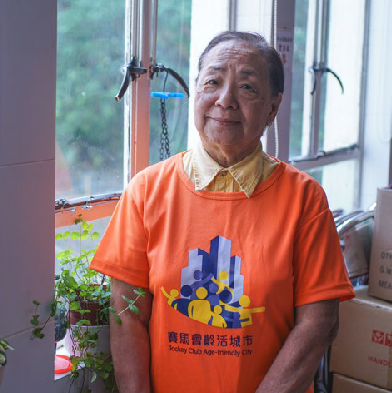 Lam Chi-ling | Training up and raising skills to contribute to the community
"With an ageing population, it is very important to bring in facilities suitable for the elderly," says 81-year-old Lam Chi-ling.
Lam Chi-ling joined the Central and Western District Age-friendly Working Group ("Working Group") ten years ago. The group promotes age-friendly transportation and they have even borrowed a bus to conduct field studies. When Lam sees the four priority seats as well as the handrails at the entrance and exit of the buses, she knows that the recommendations by Working Group have been implemented.
"For elderly, it would be more convenient to socialise within the community and no need to change transportation when seeing the doctor," says Lam.
Lam has been a JCAFC project ambassador since 2017. "I want more people to know about our work in improving age-friendliness in the Central and Western District."
Whenever the ambassadors are in their orange uniforms, they feel empowered to promote age-friendliness and have more confidence when speaking to the public.
She attended training sessions given by Professor Terry Lum, Associate Director of the HKU Sau Po Centre of Ageing at The University of Hong Kong.
"We knew there were lots of slopes and stairs in the Central and Western District. We've learnt more about urban planning from Professor Lum. There are problems in the design of our buildings and roads which need to be addressed. For example, we can install stair climbers in old tenement buildings which have no lifts to help the mobility-impaired elderly," says Lam.
Lam is pleased that the Central and Western District joined the WHO Global Network for Age-friendly Cities and Communities in early 2018. As a project ambassador, Lam has more opportunities to talk and share with the public and has even received media interviews which have sharpened her communication skills, so now she is no longer afraid. "There is no fear when you are striving for something worthy," says Lam.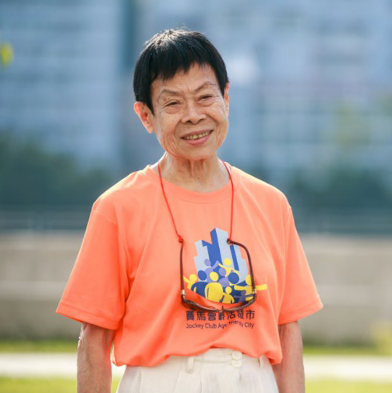 Mak Wai-lai | It's everyone's responsibility to build an age-friendly city
75-year-old Mak Wai-lai has taken part in a lot of voluntary work since she retired, such as answering the enquiry hotline for the Cancer Fund and visiting patients in Our Lady of Maryknoll Hospital. "To be involved in community work and help others, you must first enhance your skills."
Mak says the training workshop for the JCAFC project ambassadors has broadened her knowledge of the ageing population and instilled the concept of an age-friendly city. She assisted in the community exhibition in which she found that some of the elderly in her community were concerned about dental health. She is emphatic that "The government should provide public dental services."
Many elderly people need dental care but cannot afford the private services which can cost a few hundred dollars for each consultation. "These charges cannot be covered by the Old Age Living Allowance."
Mak has lived in Sha Tin for more than 20 years and admits that she was not concerned about the community affairs before. "I felt that the community had nothing to do with me."
Since she has become a project ambassador, she has started paying more attention to the environment within the community, while also encouraging her friends to get involved.
"The project is not just for a few of us but it concerns every member of the community." Mak believes that everyone should contribute to make the community a better place to live.
"I am glad to offer my time as long as I am healthy enough to participate."
Mak has earned unexpected rewards by taking part in various activities. "I've made more friends." They go camping and fishing, and sometimes even travel together. Mak can communicate well with the youngsters on a large range of topics, from photo taking to film editing. "I don't feel like I'm old. A person who enjoys learning does not grow old. I feel like I am the person I was in my younger days," She says earnestly.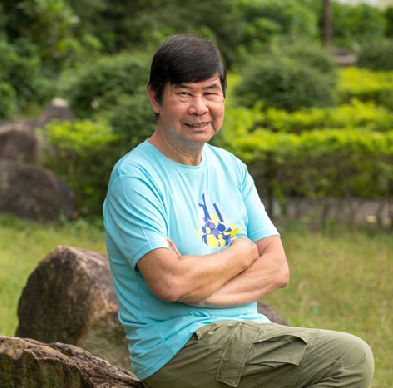 Chui Kwan-hung | Improving the community through neighbourhood interaction
Chui Kwan-hung, is nearly 70 years old, he used to be a chef working abroad and has been to many countries. He recalls that there were times when he woke up in the middle of the night and did not know where he was. "The work was of course hard, but what was most difficult was loneliness." After he retired, he started visiting the elderly. "They always told us that they met us more frequently than their children."
Chui became a JCAFC project ambassador in 2018. Health@Community was the first district based programme he joined. After the training, the ambassadors designed age-friendly exercises together with nursing students and physiotherapists to encourage older people to exercise in order to prevent the three high risks: high blood pressure, high blood sugar and high blood lipids. "We have tried each of the movements to make sure they are easy for the elderly to master."
They were also involved in creating light meal recipes. When they visited the older people, they introduced both the exercises and the recipes. "I want our visits to bring more benefits and be more constructive rather than just chatting with them," says Chui.
Chui says living in Kwun Tong has many advantages except for its health care services. Private clinics are expensive but it is difficult to make appointments for public services. If an elderly person fails to see a doctor in time, his or her condition may worsen. "That is why video consultation is very useful."
Under the programme, the ambassadors visited the homes of the elderly participants to set up a camera which facilitates videoconferencing with health professionals, for example consulting the pharmacist on drug management. Chui says that this helps the elderly in a very practical way.
Many older people like deep-fried and high-fat food which can raise blood cholesterol. It takes some skills to convince them to avoid these types of food. "As they can be very resistant, you have to adopt an alternative approach when talking to them. For example, I would tell them to have two healthy meals for every ten meals."
An elderly health management network has been built in the community through this kind of knowledge sharing among peers. "Neighbour support is very important. If we foster good relationships, we can help each other."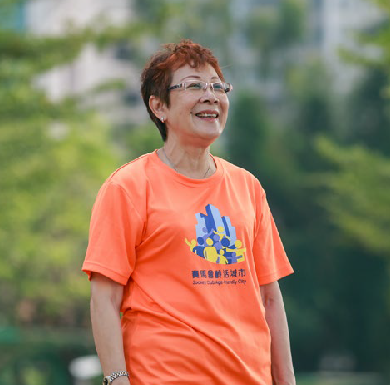 Chui Yuk-ha | Elderly play an important part in building an age-friendly city
Chui Yuk-ha, who has just reached her seventies, had made plans for her life after retirement, including learning to swim and taking up Chinese painting. "I've learnt to play the harmonica recently," she laughs. "I could not help but praise myself for being so smart." She became a JCAFC project ambassador in 2017. She led a guided tour for exchange students from the Lingnan University and took the role of consultant for students on giving advice on choosing gifts for the elderly.
Chui Yuk-ha has lived in Tsuen Wan for more than a decade. "This is a city of footbridges which make it accessible for pedestrians in many places. I feel so proud of it." When she led the exchange students for a guided tour in Tsuen Wan, she was touched by the compliments they gave. "I was able to explain to the foreigners what an age-friendly city meant and showed them how an elderly person could contribute to society."
She laments that the ageing population is an issue which concerns everyone. An age-friendly city not only benefits the elderly but also youngsters because they will also grow old one day. "Everyone will reap the benefits."
She insists that it is very important for the elderly to take part in community activities. "Older people always complain about being bored. But if you are willing to go out, you will never be bored." Chui is not only active, she is also aware of the community environment. "I live in Tsuen Wan and used to go out only to shop and dine at restaurants. I now pay attention to whether the road is slippery or the road surface is uneven. I also look around to see if there is any barrier-free passage." She also cares about the elderly living in the district. "I'll stay alert when I get on or off a vehicle. I'll let older people get on first or give them a hand."
According to Chui, the biggest reward in being a JCAFC project ambassador is that she is encouraged to examine her own community and express her views, which contributes to the improvement of the community.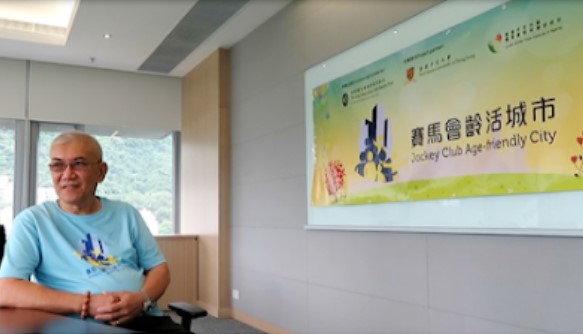 Mr Sze | My age-friendly retirement life
With an ageing population, more people has been talking about retirement lives in the society. I am 70 this year. I started working from teenager age and was retired in 2006. I like learning and trying new things, hence "retirement" to me is a chance to start a new chapter in life.
Before retirement, I was a baker. Although I love learning new things, there were too many things to consider when I was younger, hence most learnings and attempts before retirement were largely based on the benefits of my work, family, wife and children. After retirement, my children had grown up, and the economic pressure of supporting the family reduced.  At that moment, my colourful retirement life kick-started. Looking back the 10 years of retirement life, I experienced so much I haven't been able to try before I turned 60 years old, such as drama performance, bring the MC of events, etc. Meanwhile, I have passed on my learned skills and knowledge to others, and I find that contributing and making others happy is a source of joyfulness.
I believe a well-equipped age-friendly community can enhance the independence of the elderly, and can even make use of their skills to let them contribute to the society. Hence, apart from joining different activities, I have always concerned about the age-friendliness in the community. In early 2015, I had a chance to join a sharing session of Jockey Club Age-friendly City Project organised by the CUHK Jockey Club Institute of Ageing. As I agreed with the vision of the Project, I therefore actively took part in their activities, and became an "Age-friendly City (AFC) Ambassador", and got to know some new friends sharing similar vision. I look forward to working with different organisations and people to promote the age-friendliness in Sha Tin, and to inspire more people to enjoy an active retirement life.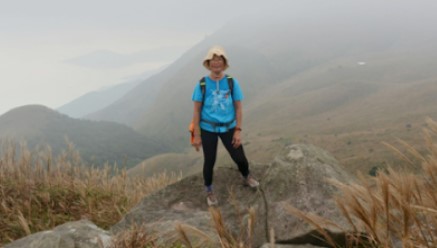 Ms Jo Jo Chan | Run in Tai Po.Walk with Big Step
Tai Po's ancient name was meant "big step" in Chinese, only until the Emperor Guangxu in Qing Dynasty, the place's name was modified to its current form titled "Tai Po". Situating in the eastern part of the New Territories spanning across 14,740 hectares, Tai Po has a beautiful shoreline, green meadows and steep mountains.
Ms Chan, who is aged 64, had been retired since 55 years old and has been living in Tai Po for over 30 years. "I like doing exercises.  I must do exercising.  If not, my physical body will turn bad.  I do exercise every other day, which allows my body to rest while staying healthy." In late 2015, Ms Chan took part in the Jockey Club Age-friendly City Project activities in Tai Po, which was funded by The Hong Kong Jockey Club Charities Trust and implemented by CUHK Jockey Club Institute of Ageing. After training, Ms Chan had more understanding on different domains of an age-friendly city including "Outdoor spaces and buildings" domain. She said, "I am now learning a new exercise – "walking".  Proper walking posture would prevent my knees being worn out. Tai Po has done very well in "Outdoor spaces and buildings", where the pleasant environment allows me to enjoy exercising. It has beautiful walking trails, lots of greenery, and age-friendly public facilities such as benches and toilets.  All these make exercising more accessible and encourage me to do so."
At present, Ms Chan will have jogging along Tai Po waterfront every other day, running from Tai Po town centre to Science Park and return. Besides, she will find different companions to go hiking with her to climb different mountains in Tai Po.
"Life is about learning to adapt to different stages and situations, but being happy is the most important." This is the motto of Ms Chan. Although we may not get everything we want, yet she thinks doing more exercises can help people stay optimistic and get through different challenges in life. She wishes Tai Po's outdoor spaces will attract more people to enjoy the fun of exercising and happily walk together with "big step".
STEM projects developed by students to improve the elderly's quality of life
(Chinese version only)